So here it is! One of the baby blankets I've been working on during pregnancy! Luckily I finished it in time – it is in daily use now. It has the perfect size and I am more than happy with how it turned out. I had a tough time making the fabric choice because nothing seemed to fit together – but in the end, it turned out as a modern, colorful, happy baby blanket.
Lately at the pediatrician one of the doctor's receptionists even asked me where I got this beautiful blanket! It's always something different when a stranger likes what you did because although it is much more important that family and friends like what I do, they would never tell me that something I made by myself was totally ugly, even if it was. I guess. So I really enjoyed the comment about Lotta's blanket by someone unfamiliar.
I bought fabric like crazy for this blanket – every time I saw a beautiful fabric I told myself it would fit perfectly and bought half a meter. In the end I had so many awesome fabrics that I couldn't use all of them because unfortunately, they did not all work together. But something really turns out the way I planned is the back of the blanket! I chose a soft baby corduroy fabric in a beautiful polka dot design and it is so soft, I love it!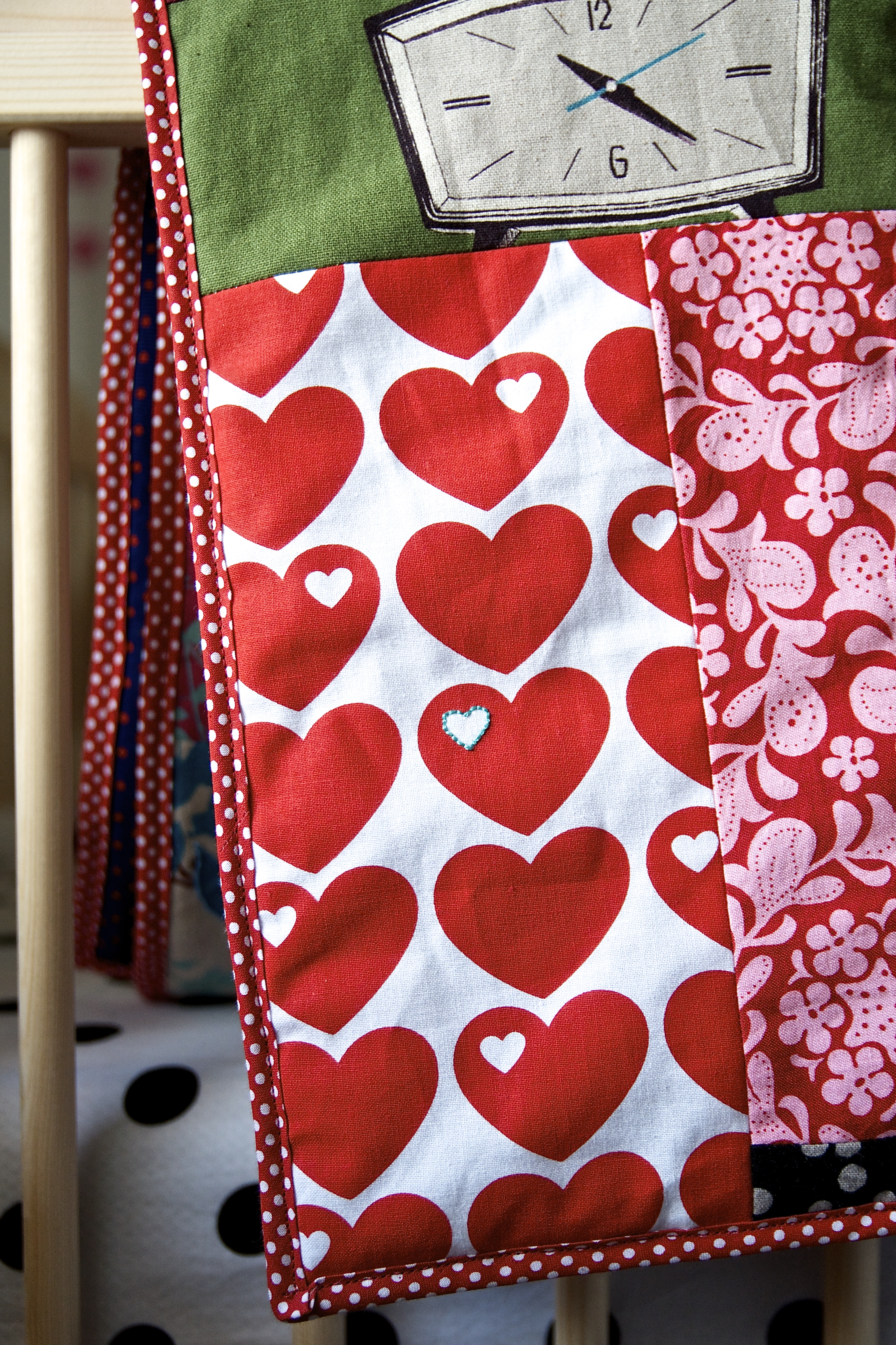 I also like the stitched details a lot, like the outlines of the star and the heart in a bright color as well as the headlight of the Vespa. The stitched clouds next to Big Ben were my boyfriend's idea and I really like the thought that he was somehow involved in the process of making this blanket this way.
Do you know Astrid Lindgren?
She wrote some fantastic books about a little girl called Lotta, Lotta on Troublemaker Street. She has a cuddly toy which she calls her "Teddy" although it looks like a pig. And the pig you see in the corner of the bed is "Teddy". We bought Teddy ourselves some weeks before Lotta's birth because when you are a Lotta, you definitively need a Teddy in the shape of a pig. And that is exactly what my dear friend Lotta thought (it is kind of comfusing to write about three Lottas in one post), so she gave Teddy as a gift to her birth to Lotta, too. Now we have Teddy in pink and in red, but I guess they enjoy each other's company until our little Lotta is old enough to carry them around.