I realized lately that I have a tendency to make everything bad bigger than it really is and forget about the beautiful and nice things that make me happy. So I planned to do a weekly post with little things that make me happy during daily life.
Funnily, Lindsay of Hello Hue started a new  "It's the little things" blog party yesterday – and because this is exactly what I wanted to do, focus and concentrate on the little things that make you happy during a "normal day", I decided to join this blog party because it's even better to share the things that you're happy about with other people. And I hope it's not too bad that I'm one day late, the next blog party post will be right on time next friday!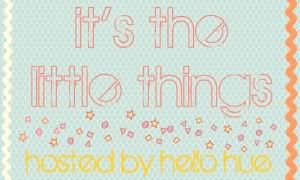 So here we go – what made me happy this week:
Spending an evening with two of my closest friends, watching a football game and enjoying some beer (for me: non-alcoholic, of course).
Strawberries. I can't get enough of them!
Starting to sew again. And being really happy with the end result!
Receiving a package with sewing stuff. I love the yarn spools!
Working at a birthday card journal instead of throwing the cards into a box and never look at them again.